Cozy and familiar, with great prices and a friendly waitstaff, Il Vicolo is a lovely little seafood restaurant in the southwest corner of the Albergheria. Don't let the neighborhood's relative grime keep you away.
We went up and down every street and alley surrounding the San Saverio church at least three times, but we could not find the Trattoria Il Vicolo. "It's supposed to be near the church! Ask somebody." But most of the people around the neighborhood were either standing in dumpsters, searching for trash, or sitting before blankets on the street, selling the trash they had just found. Apparently Saturday is the day for extreme bargain-hunters in this corner of town, and I wasn't eager to engage anyone in conversation.
But just as we were getting ready to give up on Il Vicolo, we found it. Right across from the church. Exactly where we were supposed to be looking.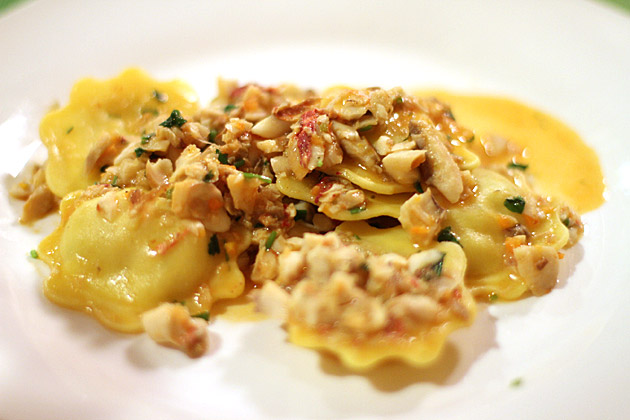 It's tucked into a tiny alley, so wasn't totally easy to find… except for the big, prominent sign in the plaza pointing directly at it, but let's just ignore that. Coming from the grime of the "market" outside, we had grown skeptical about the restaurant's probable quality, but our apprehensions evaporated once we stepped inside. Il Vicolo is a lovely little tavern, cozy and familiar with wooden tables and chairs, and an attentive (English-speaking) staff. We immediately felt at home.
The waiter took his time explaining the menu, almost entirely seafood, and by the end of his ten-minute monologue describing each plate in full, our stomachs were grumbling. Soon enough, we were gorging ourselves on homemade Sicilian food, as delicious as he had made it sound. I had seafood ravioli, with a generous portion of shrimps and mussels, and bathed in a rich tomato sauce. My second plate of grilled swordfish filet was just as good. Jürgen, no fan of seafood, had more limited options. He chose a first plate of fried delicacies followed by spaghetti with an eggplant-based sauce. Eggplant, we're learning, is a major ingredient in Sicilian cooking.
We had a great time in Il Vicolo and can definitely recommend searching it out for excellent Sicilian seafood. Not only delicious, but a good bargain as well. We each had two plates, dessert and a couple glasses of wine for around €30 total.
–Italy's Favorite Hazelnut Spread