Cannoli – Sweet Lord, Palermo, Just Stop It
Make your own: Connoli Tubes
One of our Palermitano readers recently told us that although the most famous nickname for the city is la Felice ("The Happy One"), Palermo is more well known around Sicily as la Licca ("The Glutton"). I think both apply. As I munch down yet another cannolo, I am both happy and gluttonous. Yes, I know I've got cream smeared across my face and cookie flakes on my shirt. So what? BURP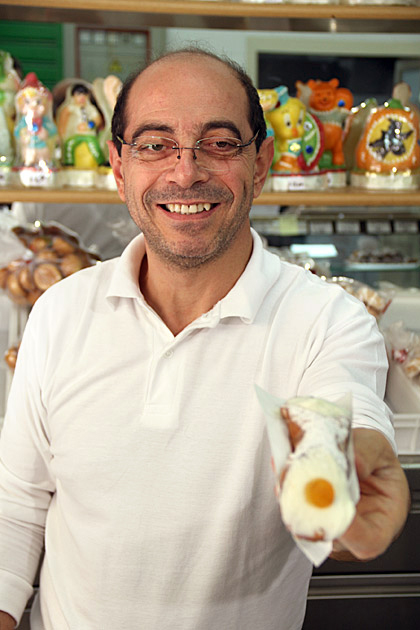 Cannolo is the singular, cannoli the plural. And, as I've recently learned, you should never say cannolis. The word means "little tube", which in this case is a sweet, fried wafer, rolled up and filled with thick, white ricotta-based cream. Tube-shaped, filled with white cream; don't let it spoil your enjoyment of the treat, but it shouldn't come as a surprise to learn that cannoli were originally a symbol of fertility, eaten during Carnival.
Cannoli are insanely delicious, and it's no wonder that they've become popular throughout the world. Though you can find cannoli in the USA, America's little mini-sticks don't compare with the mammoth tubes of Palermo (I know, I know, the "symbol of fertility" and all, but let's not read innuendo into my words). Palermo is still the best place in the world to try them out. But even within the city, quality varies widely. Some of the more touristy places don't use actual ricotta, or leave them sitting around for hours, which ruins the cookie's crispiness.
We had our introduction to cannoli at Bakery Rosciglione, near the Ballarò Market, and still haven't tasted better. The cream and the wafers are made fresh in this tiny shop, and when we expressed curiosity, the baker ushered us into the kitchen, so we could see how he prepared them fresh. (Yes, he took us into the back room to show us his cannoli. Get your mind out of the gutter!)
So, cannoli. Yet another Palermitano attack upon our fitness level. You win, Sicily, we give up. We'll just give ourselves over to gluttony.
Location of Rosciglone on our Palermo Map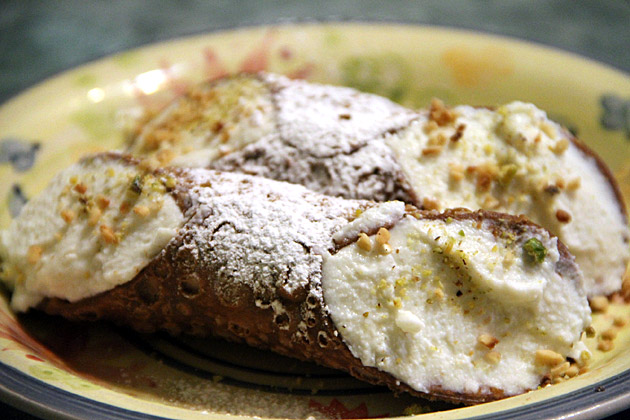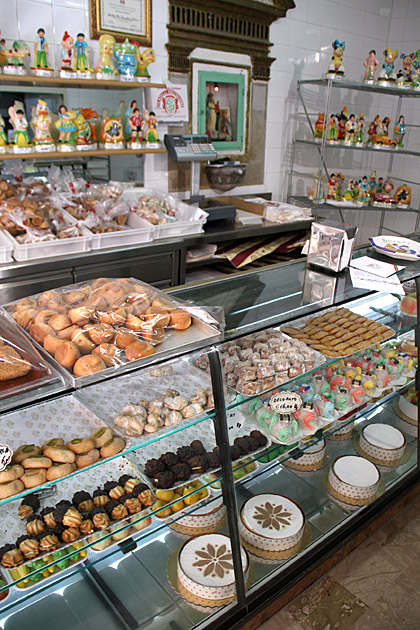 google_ad_client = "pub-1580149437633664";
/* 300×250, created 10/23/11 */
google_ad_slot = "0471143713";
google_ad_width = 300;
google_ad_height = 250;
//–>