The first time I saw someone walking down the street in Palermo, eating ice cream in a bun, I thought, "What a weirdo".
The second time I saw it, I thought, "Is this some sort of crazy Sicilian specialty?"
The third time I saw it, I thought, "That looks delicious".
And the fourth time I saw someone eating ice cream in a bun, it was because I spotted my own blissful reflection in a storefront window.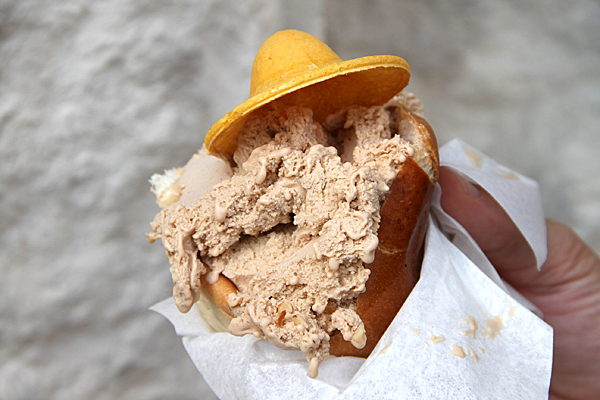 So, yes, ice cream in a bun (or more exactly, a brioche) is a popular snack in Palermo. The sweet bread is cut open and a mound of ice cream plopped inside. It's more difficult to eat than from a cone: the ice cream melts faster, and dainty licks aren't nearly as effective as full-mouthed bites. But I've always been a fast ice-cream eater, devouring entire cones in the time it takes Jürgen to finish putting colorful candy sprinkles on his, so I've got no problem with it.
In fact, I think I prefer my ice cream in a bun. The brioche tastes incredible with the ice cream, chewier and fuller than a cone. It's surprising that the tradition hasn't made its way to other countries; this is the first time we've seen it. So before we leave Sicily, I'll have to make sure to get my fill of ice-cream-buns. Yes, it's the only sensible thing to do.
-Everything you need to know about Italian Ice Cream