La Zisa – The Norman King's Summer Retreat
La Zisa was built as a summer retreat by Arab architects in the 12th century for the reigning Norman Kings of Sicily. Its name comes from the Arabic al-Azîz, for "glorious" or "noble". Set in the middle of gardens with the Monte Captuo serving as a backdrop, the Zisa still basically serves its original purpose, providing a nice escape for the residents of Palermo, if not for royalty.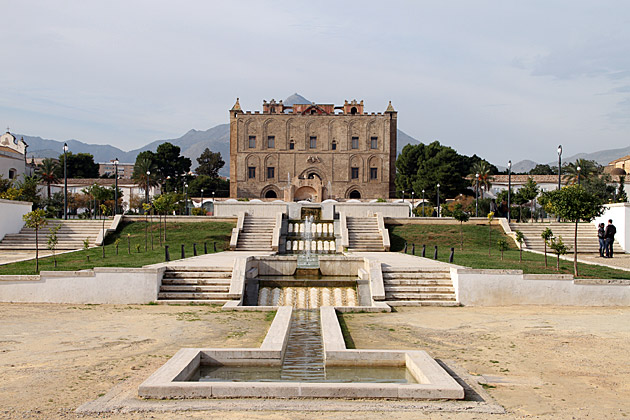 Though it's been mostly gutted, the palace has echoes of other Arabic palaces, such as the Alhambra, especially in the two-story Fountain Room. This is the Zisa's most impressive space, with original wall paintings and decorations still intact. The niches are filled with Mocárabe, or Arabic stalactite work, with a central fountain that connects to those of the garden below it.
The rest of the palace is less interesting architecturally, but has been filled with a permanent exhibition of Arabic art from around Sicily and the Middle East. One very cool piece is the gravestone for a woman named Anna. Beautifully detailed, her eulogy is inscribed in four languages: Hebrew, Latin, Greek and Arabic.
The fountain-filled park stretching out in front of the Zisa used to be known as the Genoard, which came from the Arabic phrase meaning "Terrestrial Paradise". During the days of the Normans, the park was fenced in, and wild animals were allowed to roam its grounds. Today, the only animals you'll find are sweat-drenched joggers; the park isn't nearly big enough for a proper workout, but Palermo has so few green spaces that people grasp onto anything.
We weren't expecting much when we decided to visit La Zisa, and were pleasantly surprised. It's definitely worth a look for those interested in Arabic art and architecture, or for anyone in need of an escape from the city center.
– Our Palermo Travel Guidebook Coming Soon