A thirty-minute bus ride from Palermo's Plaza Politeama brought us to the seaside town of Mondello. Settled between two rocky hills which jut into the sea, and with a beach that has the bluest water this side of the Caribbean, Mondello makes an excellent day trip from the city.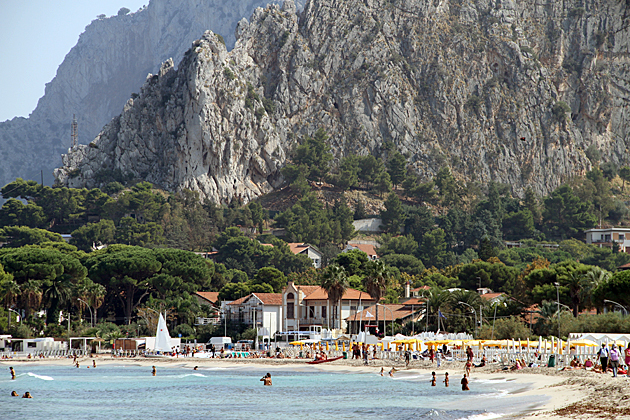 Trapped between Monte Pelligrino and Monte Gallo, Mondello was a fishing village for most of its existence, until its white beach and turquoise water were discovered by the leisure classes of Palermo. Nowadays, it's almost purely a resort town, and highly congested during summer. When we visited on the last day of September, though, there weren't too many other people and the water was still warm enough for swimming.
There's nothing quite like diving into crystal blue water, only to be greeted by a pristine mountain landscape when you emerge. I did this over and over again, diving into the water, then emerging, and whipping my hair about like a modern-day Ursula Andress, while admiring the scenery. On my fifth round, Jürgen was kind enough to point out that I don't have a luxurious golden mane, and my head-whipping looked like I was having a seizure. And it was making my hairy belly undulate unattractively. Sigh.
Mondello itself isn't a compelling town, too modern and small. Because the area was susceptible to malaria outbreaks, development had to wait for 19th-century sanitation improvements. But although Mondello lacks the sense of history evident in other Sicilian towns, there are some gorgeous private residences and resorts. The architectural highlight is indisputably the art noveau balneario, built in 1912, which is set in the bay and only accessible from a pier.
We prodded some friends for a restaurant recommendation in Mondello, and there was a disconcerting unanimity from them: "Go to El Calogero". Packed onto the seaside promenade with every other restaurant in town, El Calogero sticks out for its incredible seafood, long history and great atmosphere. Locals, and those in the know, eschew a table and gobble fresh octopus while standing at the window.
Mondello is on Palermo's urban bus system, so getting there costs just €1,30 and couldn't be easier. Look for bus #806 which runs every half hour, and more frequently during summer.
– Best Prices for Sicily Hotels