About forty-five minutes southeast of Villa Romana del Casale is Caltagirone: one of the island's oldest cities, renowned for its ceramics and pottery. It was the second stop on our final road trip through Sicily.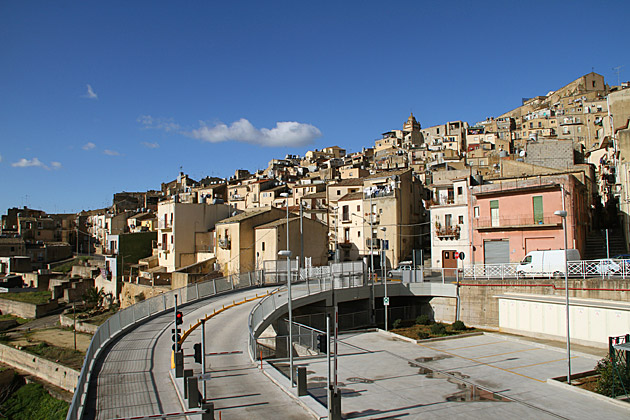 Still a healthy city of about 40,000 people, Caltagirone has been home to human activity since prehistoric days. The name comes from the Arabic "qal'at-al-ghiran", or "Hill of Vases", which serves as an indication of how tightly connected to pottery the town has always been. Caltagirone was completely destroyed in the 1693 earthquake that leveled much of eastern Sicily. But like Noto, it was rebuilt in grand style, with a heavy emphasis on Baroque architecture.
The most famous sight in Caltagirone is La Scala: a long, wide staircase of 142 steps found smack in the middle of town. Each step is decorated with a different set of ceramic tiles, from pastoral scenes to complicated patterns. We hiked up to the top of the stairs for an incredible view over the town and the plains below.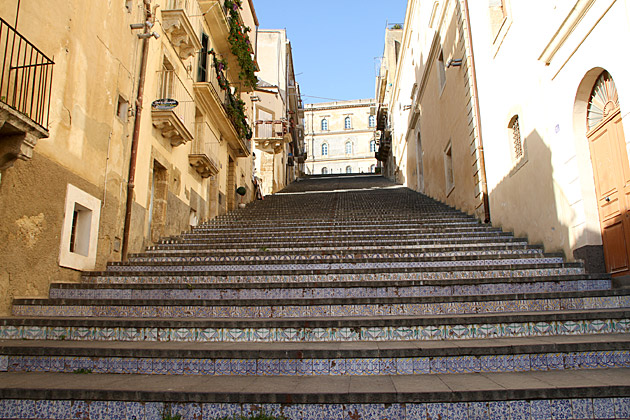 Built atop three hills, Caltagirone is one of the more picturesque cities we've seen in Sicily. Just the entrance, over the ancient, ceramic-decorated Bridge of San Francisco, was breathtaking. A number of gorgeous churches and palaces adorn the historic center, among which the Church of the Gesù and the Palazzo Senatorio are highlights.
Though we only had a few hours in town, it was enough time to appreciate Caltagirone's sense of living history. And a few hours of hiking up and down the inclines and stairs of this hilly town were more than enough. But it's a beautiful place, and definitely worth a stop-over if you're in the region.