Museo Mormino & The English Gardens
North of the Piazza Verdi, the impossible alleys and medieval monuments of Old Palermo give way to New Palermo, which feels like an entirely different city. Modern buildings, wide streets, usable sidewalks, fashionable shops and trees. In the ancient center of Palermo, trees are rarity; our dog had to adjust to peeing on cement (she didn't seem to mind).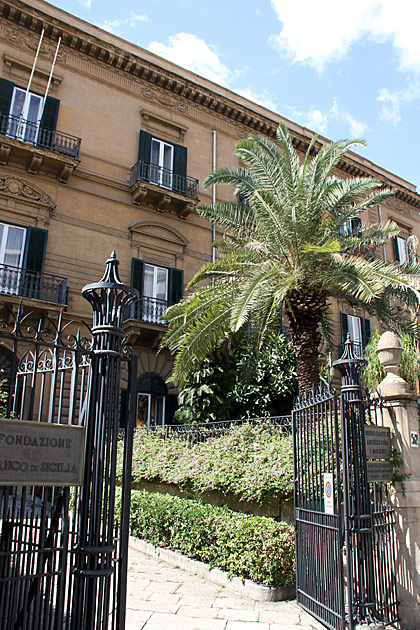 As you'd expect for the newer part of the city, there aren't many historic sights, but that doesn't mean there's nothing to see. On our first excursion into Nuovo Palermo, we visited the Giardino Inglese and the Mormino Museum of Art and Archaeology.
The museum is home to the private collection of the Banco di Sicilia, and set in the Villa Zito, a neoclassical palace built in the early 18th century. Most tourists to Palermo come on cruise ships, and don't have time for museums like the Mormino. All the better for us! After we entered and introduced ourselves, the staff sprung to life in a way that reminded me of the cups and spoons in Beauty and the Beast. We were the only guests, and were carefully, lovingly attended to by the guards and guides.
The exhibits (which we weren't allowed to photograph) are fascinating, with rooms dedicated to pre-Roman ceramics and coins found in Sicily, and others filled with paintings of Sicilian themes. For newcomers like us, it served as a great introduction to the island's ancient culture. The museum isn't overly large, and can be comfortably seen in a hour.
The nearby Giardino Inglese was laid out in 1851, in the English style popular at the time. A magnificent fountain is the centerpiece of the park, which also includes a number of sculptures and a pleasant, undulating landscaping. After visiting the Museum Mormino, the English Garden provides an excellent place to take a break.
Museo Mormino – Website
Villa Zito – Viale della Libertà, 52
Tel: 091 6085972