Celebrating Santa Lucia in Sweden
Saint Lucy was a 4th century Sicilian martyr, born and executed in Syracuse. She's thought to be responsible for ending a famine 1582, and Sicilians honor her feast day on December 13th by abstaining from bread.
Lucia was a noblewoman denounced to the Greek authorities as a Christian after refusing to marry her pagan suitor. Being a Christian back in the 4th century wasn't as fun as it is nowadays. Try going back to the year 304, when being identified as one meant that authorities could rip your eyes out, then stab you in the throat. Like they did to Santa Lucia.
In 1582, a terrible famine swept Sicily. In Syracuse, starving people prayed fervently to Santa Lucia for salvation and, lo, into the harbor did sail a boat mightily flush with wheat. The famished masses were so desperate that they didn't even wait to make bread, and instead boiled the wheat for immediate consumption. They thanked Santa Lucia as their savior (instead of, say, the captain of the wheat-carrying boat) and, ever since, Sicilians have eaten a dish made of boiled wheat called cuccia on December 13th.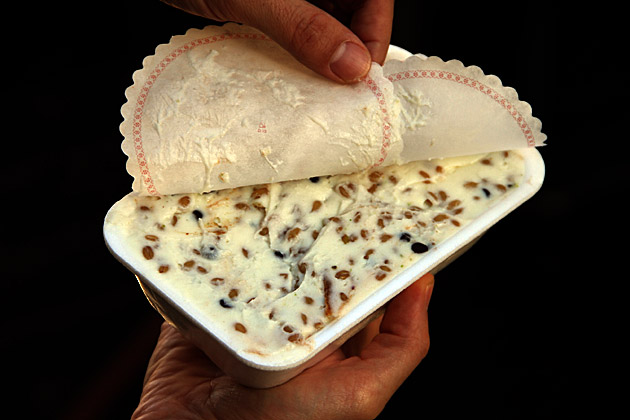 Cuccia has evolved from simple boiled wheat, and can now be eaten with chickpeas and fava beans, or made into a dessert with ricotta. We bought some of the ricotta cuccia; the boiled wheat was elaborated with berries, candied fruits and chocolate pieces, and was extremely sweet. And later, when we went for lunch, the restaurant we'd chosen had a special menu for Santa Lucia with exclusively bread-free dishes.
There's just one way to make cuccia (boil wheat), but it can be made into a variety of dishes. Siclian Cooking Plus has a nice overview of the different recipes, if you're interested. It's a nice dish, but I think indulging in it just once a year sounds about right.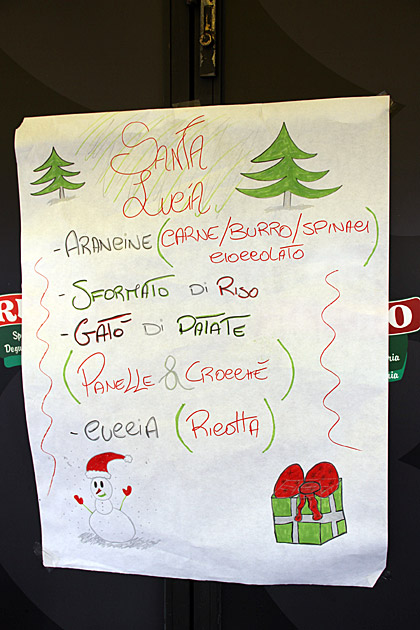 google_ad_client = "pub-1580149437633664";
/* 300×250, created 10/23/11 */
google_ad_slot = "0471143713";
google_ad_width = 300;
google_ad_height = 250;
//–>