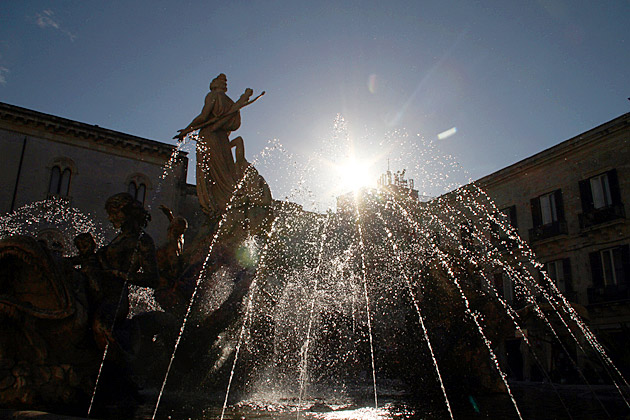 Once upon a time, Syracuse was the most mightiest city-state in the world. Ruled by famous tyrants like Dionysius the Elder, and home to Archimedes, one of history's greatest thinkers, the power of Syracuse extended far beyond the Greek Empire, to which it belonged. The city's influence waned only during the Arab occupation of Sicily, when the capital was moved to Palermo.
Visiting Syracuse is like taking a trip back into the ancient world. Greek ruins thousands of years old still claim space around Roman, Byzantine, Jewish and more modern Baroque constructions. The entire old town is a UNESCO World Heritage Site, and you can't hardly walk a block without seeing another noteworthy building, ruin, fountain or church.
We were staying on the island Ortigia, which constitutes the old town of Syracuse, where the great majority of sites are concentrated. Traffic is restricted here, and walking around the island's quiet, narrow lanes was a pleasure. From the moment we arrived, we fell under the city's spell — and considering that the ruins of the Temple of Apollo (from 570 BC) were the first thing we saw, that must be understandable.
With only a couple days to explore Syracuse and the surrounding area, we hardly rested. Luckily, we didn't want to. Even when you're exhausted, it's easy to be spurred on by the fact that a massive, three thousand year old Greek Amphitheater is next on the itinerary. We saw a lot, and over the next few days, will be posting about our short trip away from Palermo.