The Cathedral of Syracuse and its Plaza
The Piazza del Duomo in Syracuse is one of the more spacious plazas that we've seen while in Sicily, and definitely the most serene. The piazza is framed by gorgeous palaces, churches, cafes and the cathedral, and there's no traffic to worry about so you can keep stepping backwards to better gawk at the beauty, without having to worry about getting run over. We spent a long, mild evening at one of the bars, drinking wine and silently soaking up the plaza's beauty.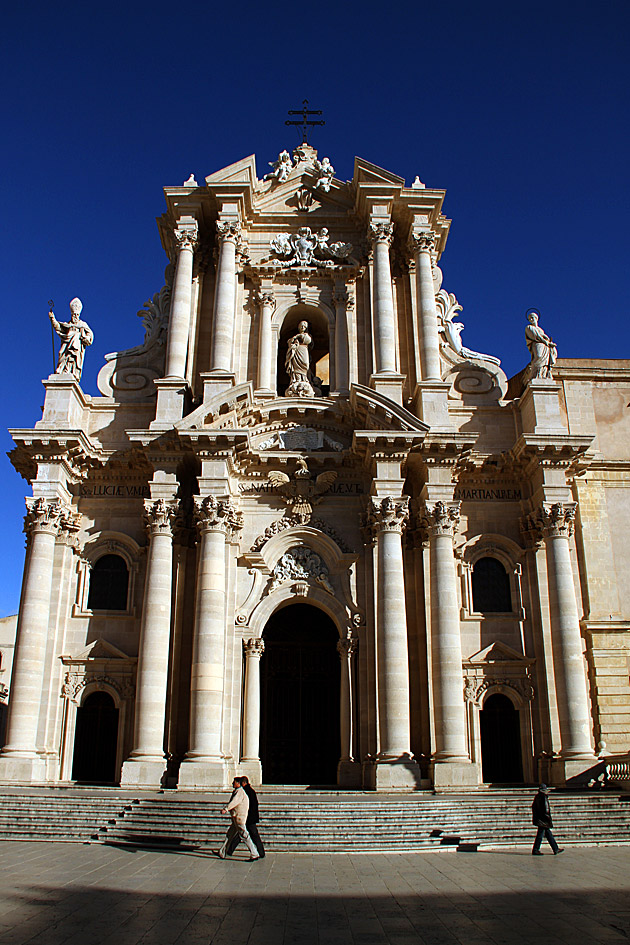 The location of the cathedral has been a spot of religious importance since the days of the Greeks, who built a temple to Athena here. The current baroque facade dates from reconstruction necessary after a 1693 earthquake, and belies the true age of the church. But deceptions vanish once you enter the cathedral, where ancient Doric columns delineate the asps. Much of the original structure remains, and the effect is startling. Although you're in a church ostensibly dedicated to the Catholic faith, it's impossible to ignore the fact that it was once the domain of much older gods.
After spending some time in the cathedral, we moseyed over to the church of Santa Lucia alla Badia, built on the very spot where Saint Lucy was martyred in 304 AD. This church has been recently restored, and its centerpiece is one of Sicily's greatest artistic treasures: Carvaggio's Buiral of Saint Lucy.
The evening was still pleasantly cool when we left the Santa Lucia, and we had time for another round at the cafe before finding a spot to eat dinner. The bars were filling up with couples and families who'd just finished their Christmas shopping, and as we munched down generous servings of antipasti with our wine, we wondered whether or not Syracuse might have made a good base for 91 days. A lot smaller than Palermo, sure, but the relaxed way of life and gorgeous city center leave little to be desired.
Location of the Cathedral on our Sicily Map
–Book Your Syracuse Hotel Here