The Hebrew Baths of Syracuse
Syracuse had been under the control of the Greeks, the Romans, the Byzantines and the Arabs, but was always home to a healthy Jewish population. As in many of the European cities to which Jews emigrated following the diaspora, the ruling hierarchies were grudgingly tolerant of them and their religion. That is, until the arrival of the Spanish who decreed the total expulsion of Jews from their kingdom, in 1492.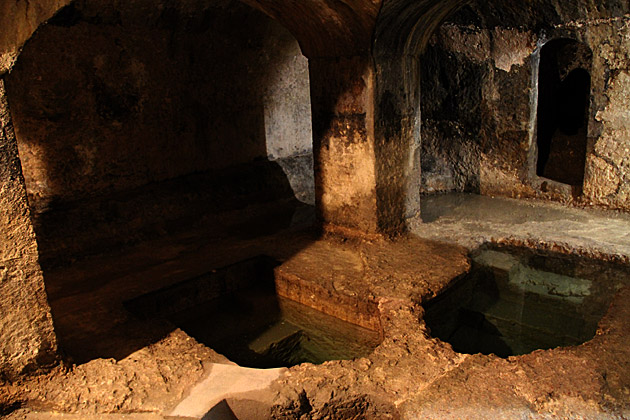 Syracuse's Jewish population had a history of almost 2000 years in the city, and when they were forced to leave, many assumed that they'd soon be able to return. And so they decided to hide their holy baths by covering them with earth.
The concealment was so successful that centuries would pass before the mikvah was rediscovered. About fifteen years ago, while digging into the basement underneath the Hotel Algilà for maintenance works, the ancient Hebrew Baths were found. Syracuse's mikvah is thought to be the largest and most ancient in Europe, still in pristine condition.
The baths are fed by an underground stream. The water for the rituals had to be constantly pure, untouched by human hands, which the natural entries and exits in the limestone walls permitted. Women were compelled to visit them after every menstrual cycle, or after giving birth, while men would go to the baths only before important religious ceremonies. The Syracuse mikvah consists of five tubs, three carved out in the center of the room, and two in private side chambers.
The baths' state of preservation is astounding and the softly lit rooms are hauntingly beautiful. During our visit to Syracuse, we had expected to see Greek ruins and beautiful Spanish churches, but encountering Europe's oldest Jewish mikvah was an interesting surprise.