The Church of San Cataldo
Three red domes immediately call attention to the tiny church of San Cataldo on Piazza Bellini, near the center of Palermo. A pristine example of Arab-Norman architecture, San Cataldo dates from 1160 and has survived into the present-day in a mostly original state.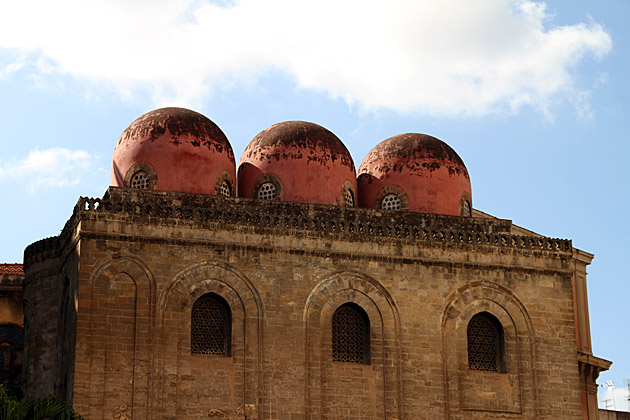 This church is the perfect sight-seeing activity for stressed tourists in a hurry. About the size of a living room, San Cataldo takes five seconds to examine, and that's if you're being thorough. Of course, you'll probably want to spend more time inside, especially since you've just paid for the privilege of entering. With dour stone walls and a refreshing lack of interior decoration, it reeks of ancient legend; I wouldn't have been surprised to see a Knight of the Round Table kneeling at the altar.
For a long time, the church was used as a post office, which speaks to Palermo's almost wearisome abundance of grand old buildings. If your city can convert an ancient church as gorgeous as the San Cataldo into something as banal as a post office, then your city is spoiled.