The Picturesque Mountain Hamlet of Sávoca
Hailed as one of Italy's most beautiful villages, the tiny hamlet of Sávoca has a spectacular mountain setting just four kilometers inland from Sicily's eastern coast. Among the legions of people it's charmed is Francis Ford Coppola, who filmed the Sicilian scenes of The Godfather here.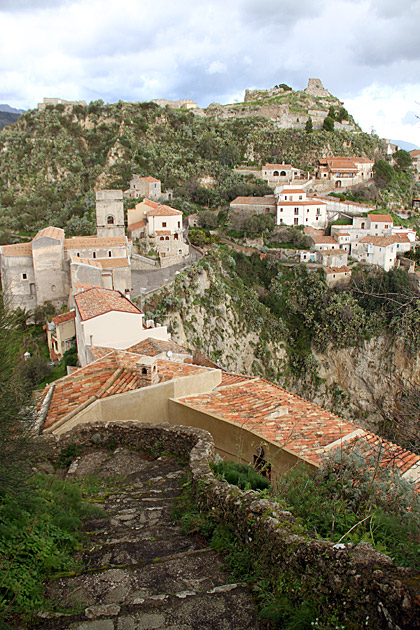 We took a detour into Sávoca while returning home to Palermo from Taormina. Up in the mountains, the weather had taken a turn for the worse; we got soaked with freezing sleet, though this made for more dramatic views over the surrounding landscape.
Most people who live in Savoca work in Taormina, so it felt like a ghost town during our visit. We had wanted to stop in for a drink at Bar Vitelli, which is where Michael and Appollonia's Sicilian wedding party scene was shot. The bar has become a sort of shrine to all things related to The Godfather, but it was closed.
So, it wasn't the most successful trip. We stayed just long enough to get a few pictures of the town. Despite the weather and shuttered businesses, Savoca is gorgeous, and it's easy enough to reach to make it worth the effort.