On the last day of our final road-trip through Sicily, we drove a few kilometers up the coast from Catania to Taormina, the island's most popular beach resort. Word of its charm had reached our ears from just about everyone we'd come in contact with: friends, strangers in bars, neighbors, Twitter acquaintances. Even my grandmother called to say that we should really visit Taormina. She's never even been to Sicily and she's been dead for ten years! Phone calls from beyond the grave are pretty persuasive: we had to go.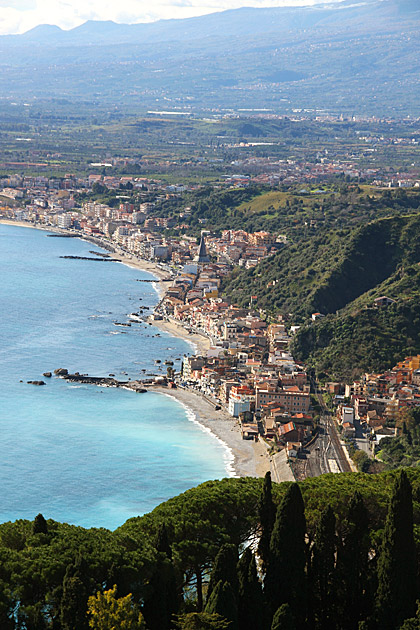 Taormina has a history which stretches back to pre-Greek times, but truly came of age during the Roman occupation. Almost immediately after entering the town, we encountered a Roman Odeon: a small theater dating from 21 AD. It's partially covered by the church of Santa Caterina, while across the street is the magnificent Palazzo Corvaja, home to the tourist office. In the first 30 seconds of exploring, we were provided with a good idea of what to expect from Taormina. History piled on top of history, on top of history.
The street leading away from the Palazzo Corvaja was named "Via Teatro Greco", which I supposed might lead to an Arabic Bathhouse. Nope: it was a Teatro Greco. A marvelously preserved theater in the most spectacular setting imaginable, with a view over the bay and Mount Etna rising grandly in the background. This is one of Sicily's most celebrated sights, and for good reason. Though it was built by the Greeks in the 7th century BC, the Romans almost completely reworked it. Since then, it's been left untouched. Entrance to the theater was steep at €8 per head, especially considering that there was no information provided, but still well worth it.
We now turned into the lovely Parco Duca di Cesarò, a public garden which was commissioned by the Lady Florence Trevelyan during her self-imposed exile from England (she had indulged in an ill-advised affair with the future King Edward VII). The garden has a wooden pavilion, views over the bay, and memorials to Sicily's fallen war heroes.
Rejoining the city on its main street, Corso Umberto I, we came in touch with Taormina's modern edge. This is a fabulously wealthy resort town, with the mission of catering to fabulously wealthy people. Shop after shop of designer apparel, jewelry and yachting gear. I saw a nice sweater in a storefront window, with a big "50% OFF!" sign next to it. Now reduced to €280. Oooh, daddy likes a bargain! Prices in the bars at Taormina's main plaza, the Piazza IX Aprile, were likewise ludicrous. Though the views in this lovely plaza almost convinced us to sit down, €10 for a small beer is a bit much.
We could easily have spent a weekend in Taormina; it must be especially nice in the spring, when there are more people and swimming is possible. A privileged, beautiful town with one of the island's most privileged, beautiful locations. Grandma was right, Toarmina is a must-see.