Thinking about Sicilian food nearly always sets the stomach to growling. Perfectly-baked pizzas, al dente pasta smothered in a rich ragú, fried arancine, swordfish filets, cannoli, pani c'a meusa. Mmmmm… Hold on, wait just a second. That last one, I don't recognize that. "Oh no? Well then, my friend, we must educate you. Pani c'a meusa!"
It sounds kind of gross… "Nonsense! This is one of Palermo's favorite snacks. Step right up to my little cart!"
It smells kind of gross… "Nonsense! Nothing could be more delicious than the marvelous pani c'a meusa!"
It looks kind of like chopped-up tripe stuffed into a bun … "Well, yes. That's exactly what it is. Two euros, please!"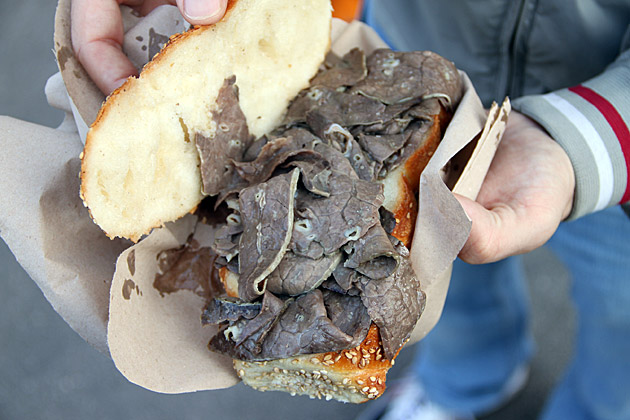 Yep, in this town full of incredible home-cooked pastas and amazing pizzas, of sweets and treats galore, of aromatic bakeries and fresh fruit vendors on every corner, one of the most popular street foods is hacked beef spleen and tripe in a bun. Of course we had to try one, but first a beer. And then another, and a third, and now my courage is sufficiently bolstered. Un pani c'a meusa, per favore!
Would you try Pani C'a Meusa?
We were at the Palermo soccer match, and I figured that it was as good a time as any to man up. Honestly, the little sandwich wasn't all that bad. It was drenched in lemon and sufficiently spiced. But, regardless of the taste, I could never remove from my mind the fact that I was eating tripe, and I wasn't able to get through the whole thing.
It's the perfect way to tell a true Palermitano apart from a phony. Set down this tripe-sandwich in front of them… whoever gobbles it up the quickest is the real deal.