U.S. Città di Palermo – Sunday Afternoon Soccer
Other Soccer Games We Went To: Boca Juniors and San Lorenzo
Palermo's football team plays in the top flight of one of the world's best leagues, Italy's Serie A. In the last few years, U.S. Città di Palermo has become one of the more feared sides in the country. This season, they had won all five games at home, in the Stadio Renzo Barbera. We went to a Sunday afternoon match against Fiorentina to see if they could continue the streak.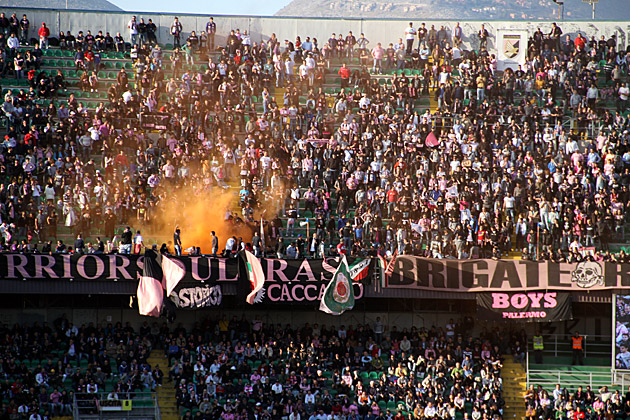 They did! But despite the two home goals, it wasn't the most exciting match I've ever seen. After Palermo went up midway through the first half, there was a lot of time-wasting long balls, flops and fouls. It didn't detract from our enjoyment much; among the fans, the happy atmosphere which had begun in the parking lot beforehand carried on strong throughout the game's 90 minutes.
The Stadio Renzo Barbera is in the northern section of town. It was built in 1932 during the Fascist rule of Italy, and has been renovated a number of times, most recently for the 1990 World Cup. Although the stadium doesn't stand out in terms of exciting architecture, its backdrop of Monte Pellegrino is certainly inspiring.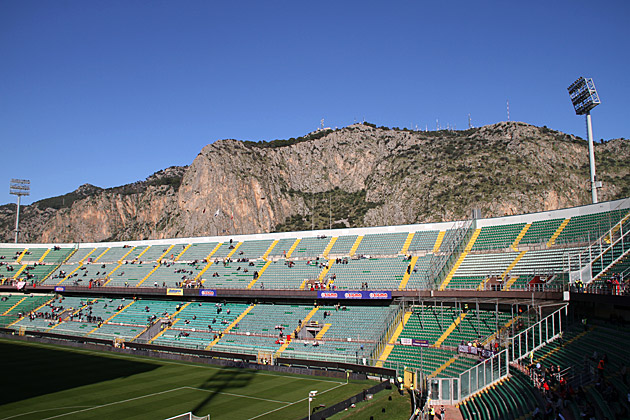 We arrived early, wanting to partake in the pregame excitement. Traffic around the stadium is blocked and in front of the entrance are stands selling food and memorabilia. After ordering a couple sandwiches and some beer, we grabbed a corner and indulged in a bit of people watching. Palermo's colors are pink and black, and almost everyone in the crowd was sporting at least a scarf. I bought a cheap one just to fit in.
Our tickets were on the south curve, and cost €15 apiece. Palermo's rowdiest supporters, its Ultras, occupy the north curve, so we had a good (and well-separated) view of their smoke-bombing, flag-waving, song-singing madness. The seats on the laterals are more expensive, and were the emptiest sections in the stadium, which for this rather unimportant match wasn't near capacity.
Before the game started, there was a minute of silence for the recent flood victims near Messina. A full minute of silence in Palermo is something I would have never dreamed possible. As it turns out, it isn't. After about twenty seconds, the crowd began clapping. It wasn't at all disrespectful or outrageous, but it wasn't exactly the silence which had been called for. I think complete quiet makes Sicilians nervous.
We were able to buy our tickets for the game at a cigarette shop a couple days before the match. I don't know if many tabaccherie sell them, but the place on the corner of Via Vittorio Emanuele and Bottai definitely does, if you're looking. Overall, it was a great day out.
U.S. Città di Palermo – Website
Location of the Stadium on our Palermo Map