Villa Giulia and the Orto Botánico
Botanic Gardens We Have Visited In Other Cities: Valencia & Buenos Aires
Green oases of tranquility found at the south-eastern end of Palermo's historic center, the twin parks of the Villa Guilia and Orto Botánico provide much-needed places of relaxation and quiet in the otherwise hectic city.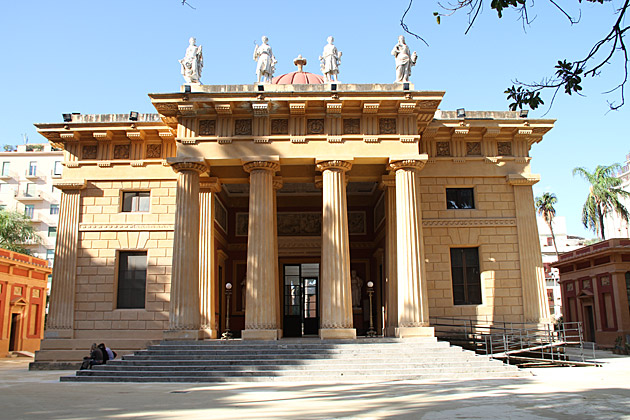 Since they're side-by-side, we decided to visit both at the same time. The Botanic Gardens cost €5 entry, and we started there. Home to over 12,000 types of plants, and covering an area of over 30 acres, this is the kind of place to get happily lost in. I know approximately two "plant facts" (they're usually green, and something about the sun), but although I wasn't able to appreciate the fine differences between Scirpus lacustris and Cyperus alternifolius, I still enjoyed wandering about the quiet paths.
There's plenty to see in the garden, which was founded in the late 18th century. The Gymnasium, the small museum flanked by two stone sphinxes, is especially impressive. Further into the garden, you can find a large greenhouse, cactus collections and a beautiful central pond known as the aquarium, which is a perfect place to sit down and haul out the paninis you've put into your backpacks. (You have put them there, haven't you?)
Adjacent to the botanic garden is the Villa Guilia, which is free to enter. Geometry is the name of the game here; a multitude of lanes crisscross the park according to a rigid geometrical plan. Among the Villa Giulia's many statues, the most intriguing one is found at the very center of the park: a sculpture of Atlas, supporting not the world upon his shoulders, but a twelve-sided dodecahedron, on each face of which is a sundial.
If you're looking for a respite from the noise and grime of Palermo, you could do worse than the Villa Giulia or Orto Botánico. A few hours here, and you'll be ready to dive back into the madness.
Location of the Botanic Garden on our Palermo Map
Location of the Villa Giulia on our Palermo Map