The Florentine Fountain of Piazza Pretoria
One of the most photographed objects in Palermo is the giant, snow-white fountain in the Piazza Pretoria, just southeast of the Quattro Canti. The fountain sits in front of City Hall and has become a symbol of governmental corruption. Disgust with Palermo's legendary malfeasance, in addition to the fountain's abundant nudity, are the two reasons that Plaza Pretoria is known among citizens as the Plaza of Shame (Piazza della Vergogna).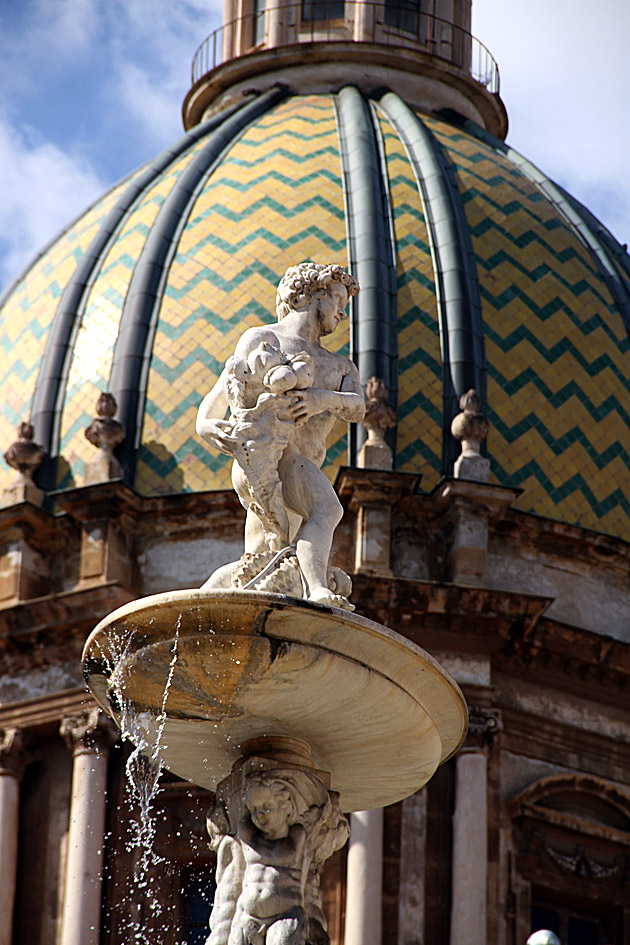 Shameful or not, the fountain is stunning, especially after a recent refurbishment which brought back its blazing white color. Built for a Spanish nobleman in Florence, it was sold and transported to Palermo in 1573. The massive size of the city's new treasure required the demolition of a few houses around the Piazza Pretoria, but that was a small price to pay for such an impressive new plaything.
With legions of statues representing mythological Greek gods and fantastical creatures, and a diameter measuring over 36 meters, the fountain takes a while to fully admire. Three tiered levels ascend to an elaborate centerpiece upon which sits a likeness of Dionysus (surely not helping with the reputation of malfeasance). With bridges and stairs, the fountain appears to invite climbing and exploration, but a fence keeps onlookers well away.