The eastern coast of Sicily is defined by the looming presence of Mount Etna, the largest and most active volcano in Europe. Though it had just erupted spectacularly a few days prior, we couldn't resist checking it out during our final road trip on the island.
According to guidebooks and acquaintances, an ascent of Mt. Etna is one of the most exciting things you can do in Sicily. After having stayed the night in nearby Viagrande, we woke up early and drove up the southern face of the mountain. The wintry Sunday morning was crisp and clear, and we were the only people on the road. Midway through the 40-minute drive to Refugio Sapienza, which is the base for excursions, we stopped to admire the view over Catania and the Ionian Sea. "I can't believe our luck", I said to Jürgen, while stretching and taking a deep breath of freezing mountain air. "This day couldn't be any more perfect".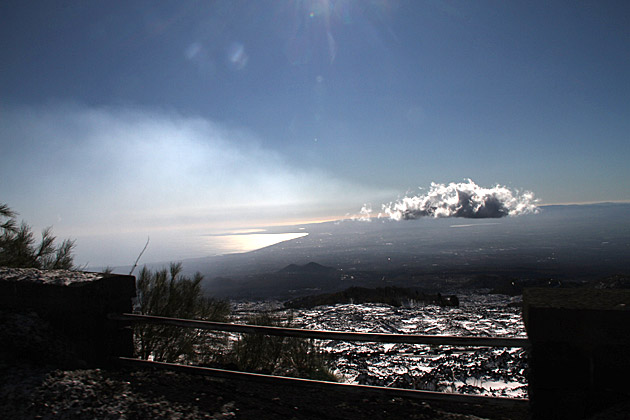 Of course, the luck wouldn't last. As we were about to get back on the road, we saw a car winding up towards us. And then fourteen more immediately behind it. When we finally rejoined the road, we had become a tiny piece of a massive caravan on its way to the refuge. The end of our peaceful mountain solitude had come so abruptly, that I almost suspected an island-wide conspiracy against us. "Lure them into a sense of tranquility… and then spring our trap!"
By the time we reached the Refugio Sapienza, thousands of other people had already arrived. We hardly found a place to park. And, looking up at the immobile cable cars, we realized that our day on Etna was about to suffer a sad, truncated end. Although the skies were clear, the wind was extreme, and cable car service had been suspended. The upper craters, and everything of interest, would be inaccessible.
Besides us, nobody seemed to care. They had not come to climb Etna, but to make snowmen, sled and have snowball fights. We were the only ones not having any fun. The only suckers. We walked around the small crater that borders the refuge, went to the bathroom, and then called it a day.