The Brave Little Towns around Mt. Etna
Our planned ascent to the craters of Mt. Etna had been foiled due to high winds. So finding ourselves with a beautiful, sunny day and nothing else to do, we hopped back in the car and took a long drive around the volcano.
We decided to move around Etna in a clockwise fashion, and started our journey at 6 o'clock on the dial. Nicolosi is the main town on the southern face of Etna, ten miles due south from the peak. The road to the Refugio Sapienza leads from here, so it's the best base for planning excursions to Mt. Etna. Nicolosi is home to a tourism-based population of 7000, and in 1669 was completely destroyed by one of the volcano's most violent explosions.
Throughout the day, Jürgen and I would debate the motives of the towns perched so confidently in the shadow of Europe's most active volcano. If you don't have to, why spend time and money building a town in a location that will almost certainly be one day destroyed? As with most questionable/dangerous decisions, the main reason that these towns have sprouted up on Etna is economic. The volcanic soil is richly fertile, allowing a wide range of agriculture. Vineyards abound around Mount Etna, as do orchards full of lemon and orange trees, and fields of fennel, almond trees and artichokes.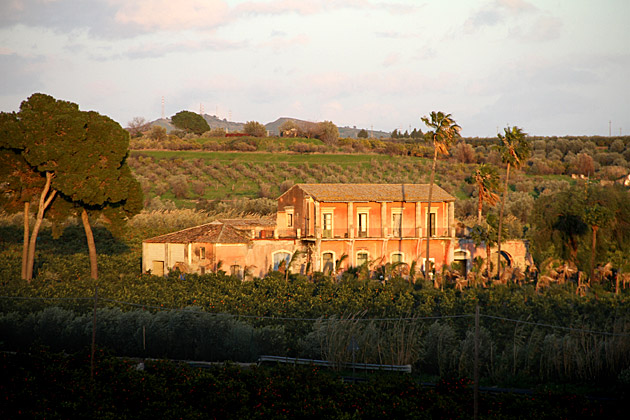 Still. It's not like city-flattening flows of lava happen all the time, but they do happen! One of these days, Nicolosi is going down. We'll try not to say "we told you so".
Back on the road, we came upon the town of Adrano at about 7:30 on Etna's clock-face. We arrived at lunch time on a Sunday, and were astounded to find this large city of 35,000 souls almost completely deserted. We lingered for a bit in the town center, where there is a pretty cool Norman castle, but didn't spend too much time. We were starving, and there wasn't a single restaurant in Adrano open for business.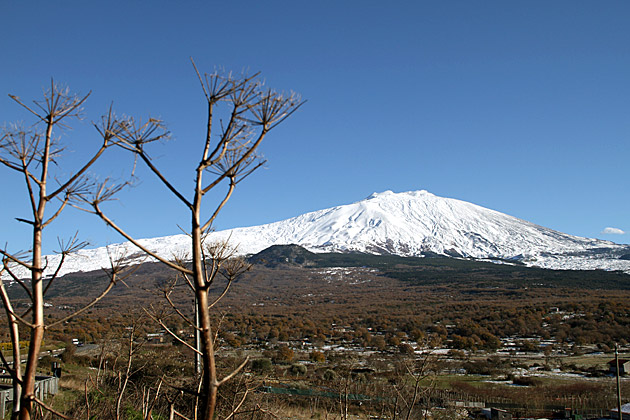 We had better luck in Randazzo, on the mountain's northern side, just shy of midnight on the dial. This historic little town is gorgeous, and despite being the town nearest to Etna, has somehow managed to continually escape its wrath. With a number of beautiful churches, archways and palaces to see, our walk through Randazzo was surprisingly rewarding, and we even found a place to grab a snack. This was the most lively of the towns we had driven through, and we could have happily spent more time here.
The remainder of our drive, along the eastern side of the mountain, went by quickly; much of it was on the highway connecting Catania to Messina. Though it wasn't as exciting as a trip to the top would have been, seeing Mt. Etna from all its sides was a decent consolation. And fifty years from now, when we hear on the news that Adrano, Randazzo or Nicolosi was buried under lava, we can say "Been there!"
Locations on our Sicily Map