Knights, Princesses and Brutality at the Puppet Show
The art of puppetry has a long history in Sicily. Since the Middle Ages, puppet shows have been one of the island's most popular forms of entertainment. Thanks to the advent of television and radio, the shows are less important than they once were, but Palermo still boasts a few places to catch a performance. We visited the Teatro Ippogrifo, near the Quattro Canti, and had a blast with a story that was loud, funny and surprisingly violent.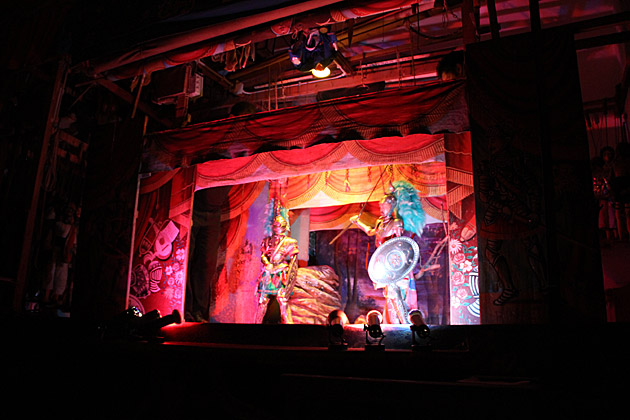 Most Sicilian puppet shows are based on the medieval legends, and our story began with a knight sleeping under a tree. Awoken by the cries of his beloved princess, who had been snatched away by an evil maharajah, he undertook a mission to free her, which brought him to India through the decimated corpses of his foes. It was all in Italian, but the plot wasn't exactly difficult to follow.
The show was performed by two puppeteers. Each marionette was attached to a long wooden stick, which the performers held out over the stage. After the show, I had a chance to hold one of the puppets; they're made of wood, wearing armor, and are really heavy. I can't imagine holding that stick for a half-hour, let alone doing the voice work. No, my puppet show would be a boring affair. "Alas, I cannot go on!" would say my noble prince, laying on the floor three minutes into the story. "To sleep, perchance to dream!" The End.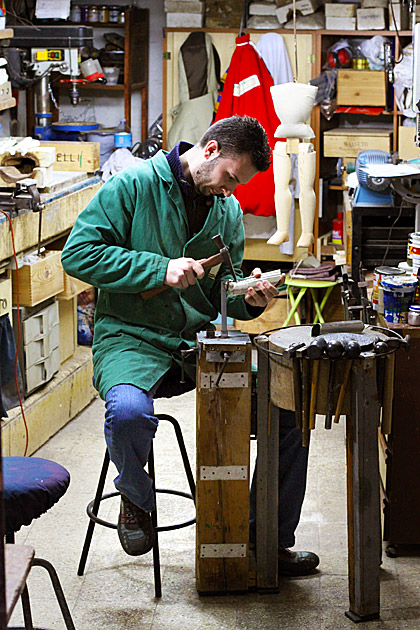 Luckily, I wasn't in charge of the show we watched. Our knight was involved in numerous battles, which were my favorite sequences. Because they were hilarious. The opponents would fling themselves at each other, over and over, with swords rattling and clanking, and the boots of the puppeteers stomping on the wooden stage. Sometimes, a head would fly off. One puppet was carved in two by the hero's vicious blade. It was great.
If you're in town, definitely try and make it to a show. And while walking around, keep your eyes open for the workshops of puppet makers, especially in the alleys just east of Teatro Massimo. Whether they're carving new puppets or hammering out their armor, they usually don't mind if you stop and watch for a bit.
Location of Teatro Ippogrifo on our Palermo Map