There are two types of eccentrics: those you feel sorry for, and those you're secretly envious of. The first kind are poor and fill their house with cats. They have crazy, stringy hair and scream obscenities at malicious neighbor kids. The second kind have the good fortune of being royalty and are able to indulge their every screwy whim. "Bring in that funny peasant boy. Now do your silly dance! I need more cats, a leopard perhaps. And build me a palace… a Chinese palace!" If you're going to be an eccentric, it's a lot better to be the rich kind.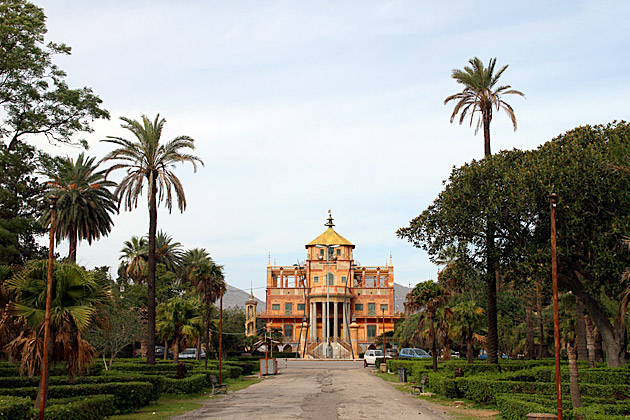 On the northern end of the Parco della Favorita is one of Palermo's strangest buildings: a large and fully decorated Chinese palace. Built in 1799 for King Ferdinand III during the height of the European craze for all things Oriental, the palace is jarringly out-of-place in the Sicilian capital. We visited just a couple days after it had been re-opened, following a full renovation.
The tour was free and we were the only visitors. Despite that, the guide rushed us through as quickly as possible, hardly giving Jürgen time to snap any pictures. I think our poor Italian made her nervous. Or perhaps she was worried we'd start making fun of the palace, which certainly does encourage a sort of mocking incredulity. We were whisked through the rooms of the queen on the second floor, the servants' quarters, the dining hall and guest rooms. The king, being eccentric, chose to sleep in the middle of a huge room on the bottom floor, his bed on wheels.
The palace consists of three floors, each decorated with Chinese patterns, writing, or frescoes of pastoral Chinese life. There's an interesting "mathematical table" set in the middle of the dining room, with a dumbwaiter carved into its center. Although the focus was Chinese, there are Italian elements as well. One room is done entirely in the style of Pompeii, painted in the deep red identified with the destroyed city. With everything freshly renovated, the colorful palace walls and decorations were especially beautiful.
Before leaving, we took a stroll through the Italian-style gardens behind the palace, which are nearly as beautiful as the dwelling itself. Strange and compelling, the Chinese Palace is the most unexpected building that we've found in Palermo. It's a little difficult to reach with public transportation, but worth the effort.
-This reminds us the Glorieta Castle in Bolivia