All Churches We Visited in Palermo and Sicily
Although it's tucked into the maze-like alleys of the Albergheria, the Casa Professa (or the Chiesa del Gesù, as it's more officially known) isn't difficult to find. Just head towards that beautiful green and white tiled dome, visible over most of the neighborhood's rooftops. One of southern Italy's most spectacular Baroque churches awaits.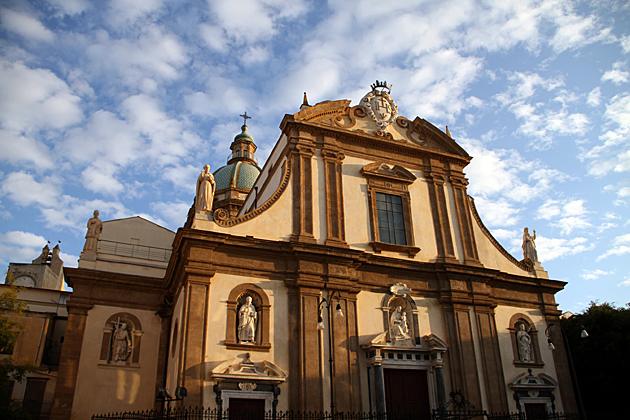 In 1549, the Jesuits arrived in Palermo and set up shop in the Albergheria, which had been the Jewish Quarter until the mass expulsion of Jews in 1492. The Catholic order soon began to construct their church, and spared no expense. When it was consecrated in 1636, the Casa Professa immediately assumed a rank as one of Sicily's finest.
Exuberant patterns, bold artwork and colorful marble cover every inch of the interior. Sculptures, paintings and plastic decorations on the walls weave in and out of each other gorgeously. Nothing simple or understated, here; even the picture frames are ostentatious, and command as much attention as the paintings contained within.
And I don't think I've ever seen so many cherubs in my life. There must be thousands of the little fellas in Casa Professa, hanging from the walls, hugging onto frames, carrying pitchforks and praying to their lord. The church's decorative color scheme of crimson, gold, and dark blue, is carried over onto the floor, which is covered in swirling patterns. Above head, a gorgeous fresco shows the path from heaven to hell. With three naves and ten chapels, the church is enormous, and there is no shortage of beauty to gawk at.
Along with most of inner Palermo, the Casa Professa was nearly reduced to rubble during the Allied bombing of 1943. One of the bombs scored a direct hit on the church's dome. Restoration required decades, and the church only re-opened in 2009. Some of the paintings are noticeably too bright and modern, but otherwise the work was flawless.
For fans of the Baroque, the Casa Professa provides an unforgettable experience. For us, it serves as a reminder of how ridiculous it is that, during Mass, a collection basket is passed around. "Razzle Dazzle! Whee-hee-hee, look how rich we are! Statues and carvings and golden everything! We need more razzle in that corner, yes dazzle it up. More gold! WHEE-HEE-HEE!" (Oh, and please give generously to the church, my child. Or you'll go to hell).
–Everything You Need To Know About Baroque