Book A Rental Car For Sicily Here
Charming, horseshoe-shaped La Cala was the main fishing port in Palermo, until the 16th century when it lost most of its size due to receding waters. The spot has played an important role in Palermo since the days of the Phoenicians, so it's not surprising that there's a lot to see here.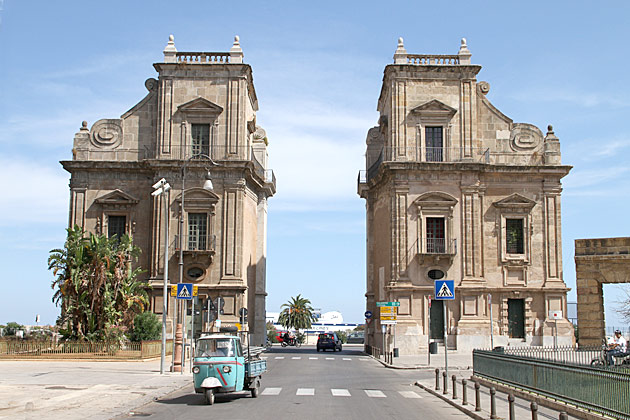 Walking straight down Corso Vittorio Emanuel brings you to the eastern end of La Cala and the twin towers of the Porta Felice. Constructed between 1582 and 1637, the gate was badly damaged during World War II. At the foot of the gate, stairs lead to a promenade known as the Passeggiata delle Cattive, or "Walk of the Bad", referring to the widows who used it. Sounds mean, but there's an explanation: "Cattive" means "Bad", but comes from the Latin root "Captivae", which means "Prisoner". And widows were considered to be prisoners to their own sorrow. By confining themselves to the raised promenade, they were able to enjoy views of the sea without having to mingle with others.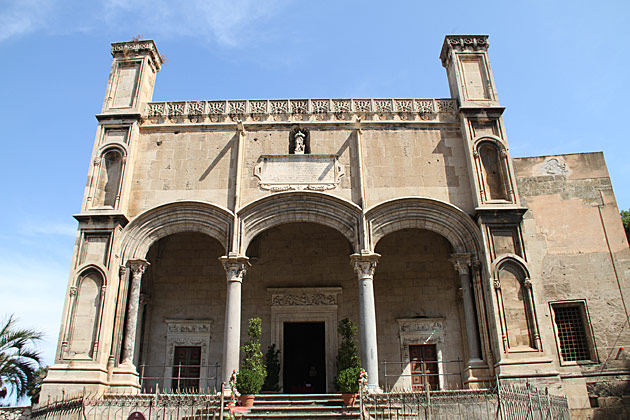 Not far away is the Gothic-Catalan church of Santa Maria of the Chains, which dates from 1490, and stands out for its sober, harmonic proportions. The name owes itself a chain attached to the side of the church which was pulled tight to close the port, but a more colorful legend relates the tale of a 1392 miracle. On the site of the future church, a group of prisoners prayed to Maria to loosen their chains and, lo, they were free. Where I come from, they'd call that "escaping", here it's a "miracle". All depends on your point of view, I suppose.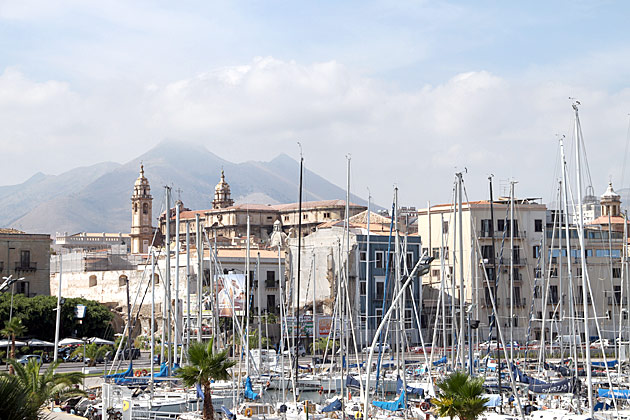 After the ancient stones of the church and Porta Felice, we were ready to see something modern, and walked out onto the southern dock of La Cala. Fishing activities have long since moved north, but the port is still in use by Palermo's jet-set, who have claimed it as a parking lot for their fabulous yachts. I don't know how many millions of euros we must have walked by during our short stroll up and down the dock, how many incredible boats from places like Hamburg and London, how many perfectly-tanned Beautiful People with whitened teeth, but I vowed to return. Oh yes, I would return. With a mini-skirt and high-heels, glittery earrings and the intent to fall clumsily in front of one of the yacht owners, giving him a good look at my cleavage as he helps me to my feet, badda-bing-badda-boom, quick elopement, quicker divorce and I just scored myself a Life Win. The perfect plan… my being a guy is the only conceivable wrinkle.
On our Palermo Map:
La Chiesa di Santa Maria della Catena
– Easy To Book Hostels In Italy