A sense of faded grandeur permeates Palermo. The stately old palaces which occupy nearly every corner are usually shuttered up, damaged beyond repair, or have been converted for use as art galleries. The Palermitano aristocracy must surely have resided in splendor, but they've long since left the scene, removing all trace of their easy wealth. Today, in this chaotic and messy city, it's almost impossible to imagine what life must have been like for them.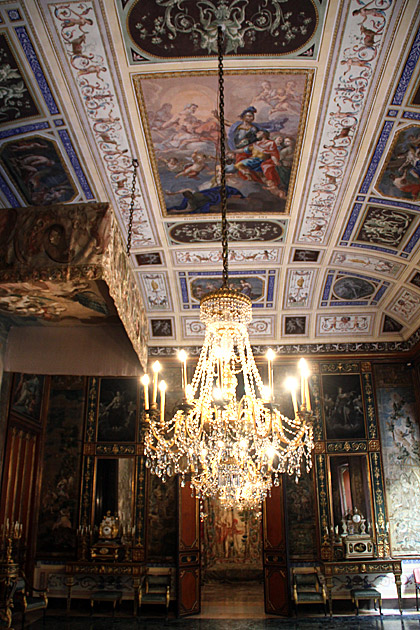 We had no idea what to expect when we toured the Palazzo Mirto, near the Garibaldi Gardens in the Kalsa neighborhood. And actually, we only visited it as a consolation, after finding the nearby Palazzo Steri closed for renovation. But luck was on our side. Here, finally, was a real Palermo palace, fully outfitted with all the furniture, wallpaper, paintings, and ornaments one would expect. We were all alone, there were no other tourists nor even a guard, and we were able to roam at leisure through the giant three-floor palace.
The Palazzo Mirto was home to the Filangeri: one of Sicily's most important families, whose presence on the island dates from the arrival of the Normans in the 12th century. In 1982, the last surviving member of the clan, resigned to a modernity in which aristocrats no longer inhabit palaces nor receive kisses on their hands from fawning peasants, donated Mirto to the city so that future generations might remember how his ancestors had lived.
Lavish ballrooms, sitting rooms, dining rooms, bedrooms. Handsome wooden furniture and intricately detailed chiffoniers. Little make-up rooms for young princesses and grand libraries for studious princes. Three floors of unimaginable wealth, preserved almost as though the family had suddenly vanished.
We loved our visit to Palazzo Mirto, especially since we had just watched Visconti's The Leopard, starring Burt Lancaster and Alain Delon. If you haven't watched the film, about the final years of the aristocratic regime in Sicily, try and do so before visiting the Palazzo Mirto. It's not the palace as portrayed in the movie, but the spirit is the same, and you'll have a better appreciation for the charmed life of the privileged few.