For 91 Days
we lived in Palermo. The capital of Sicily is as famous for its cuisine as its dark ties to the Italian underworld. But food and the Mafia hardly begin to describe this incredible city, which is Italy's fifth-largest. We had three months to explore the culture, history, people, churches and museums of Palermo, and could have used a few more. Start reading from
the beginning
of our journey, or skip to
the end
. Visit the
comprehensive index
of everything we wrote about, or just check out a few posts, selected at random, below: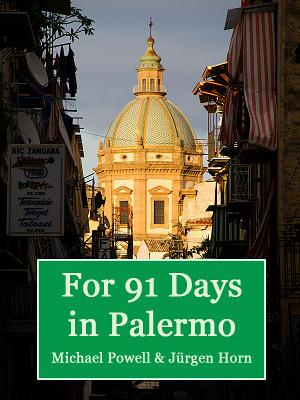 We've collected three months of our experiences in Sicily's capital into an E-book, which you can download directly or buy on Amazon for your e-reader. Get over two hundred full-color images, and all our articles from Palermo and Sicily in an easy-to-carry format. With a comprehensive index arranged by category and date, the e-book is easy to navigate, and filled with beautiful photos, amusing anecdotes, and detailed, well-researched descriptions of this Mediterranean city's incredible food, culture and history.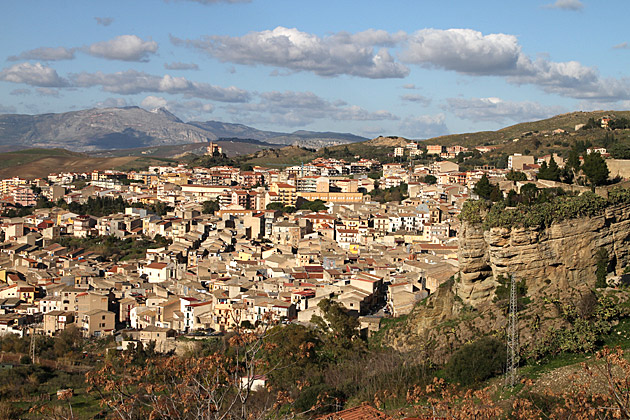 Before we moved to Sicily for 91 days, I didn't know that there was actually a town called Corleone. I had assumed that the name was invented by Mario Puzo, who wrote The Godfather. So I felt a thrill upon discovering that the town actually does exist, just an hour from Palermo, and that it indeed has a past strongly identified with the Mafia. It was just a matter of time before we visited. My name is Michael, after all.
What do Medusa, heads of wheat and human legs all have in common? Surely not more than this one thing: they all appear on the flag of Sicily, one of the strangest flags in the world.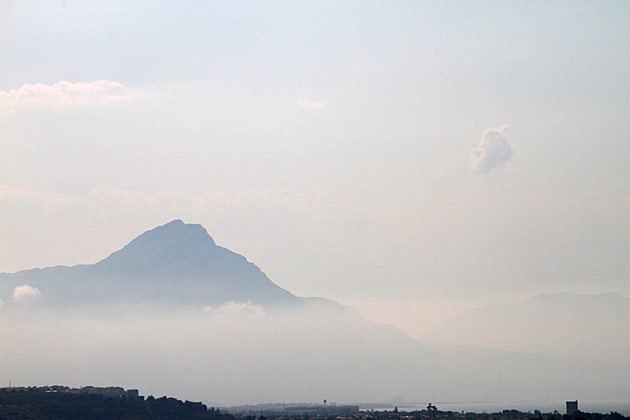 Rather than have Chucky, our ten-year-old French Bulldog, endure another plane flight alone in the cargo hold, we drove from Rome to Palermo in a rental car. It was a long haul, but allowed us to see the mountains of Calabria and the northern coast of Sicily, and also provided an initial lesson in coping with Italian drivers.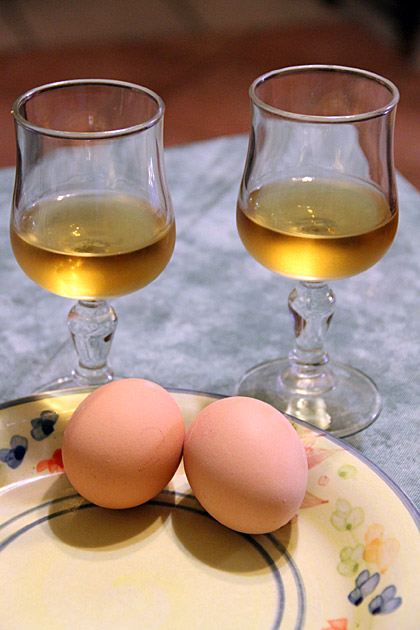 After a couple hours spent wandering the alleyways of Bagheria, we had worked up quite an appetite, and sought out a restaurant recommended by a couple readers: the Antica Osteria Zza' Maria. The word "Zza" alone was enticement enough to visit; it looks like a typo, or the sound a flamboyant snake might make, but is actually Sicilian for "Aunt".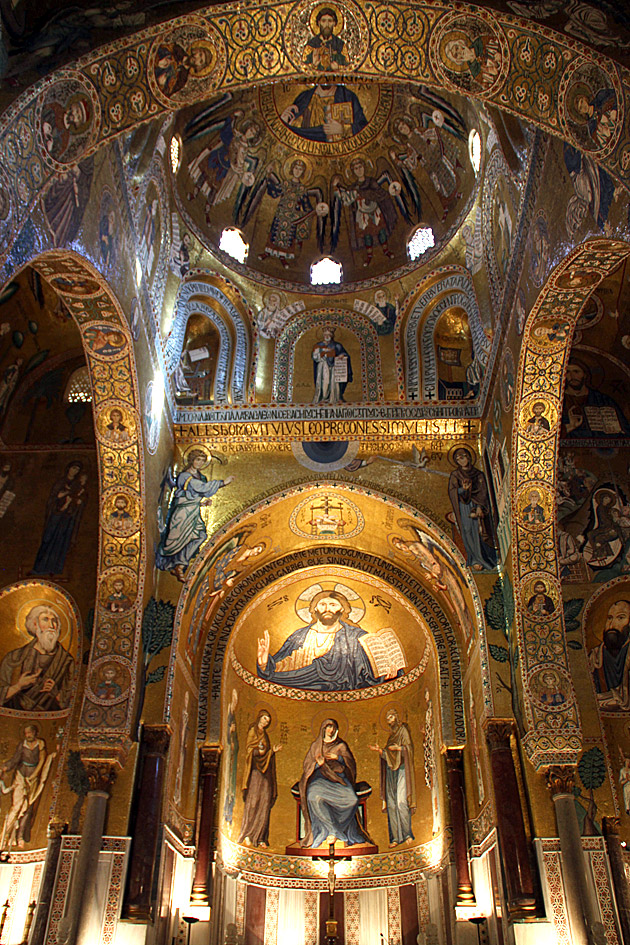 One of the top sights in Palermo is the Norman Palace, on the western extreme of the old city center. A massive complex built in the 11th century, the palace is still used today as the seat of the Sicilian government. Tourists are allowed in, but understandably restricted to a small section.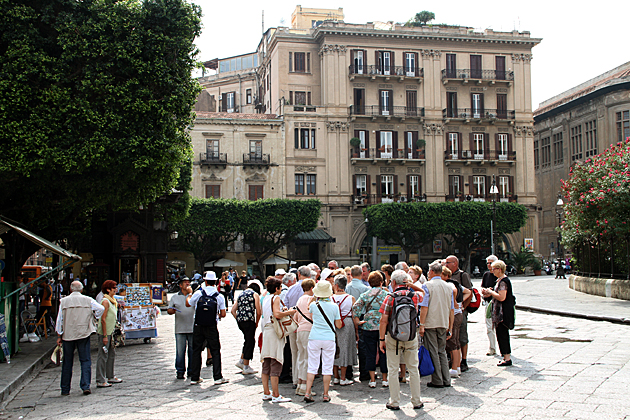 Almost every day, it seems like another massive cruise ship docks at Palermo's port, and thousands of tourists pour out like molten lava. With only a few hours to see everything Palermo has to offer, they hop on the big double-decker sightseeing buses which cruise around the historic center. Maybe they'll have a chance to visit the Norman Palace or the Catacombs but, after a couple hours, it's right back onto the ship. I wonder how many of them are captivated by the city's charm, and promise themselves to return.