For 91 Days
we lived in Palermo. The capital of Sicily is as famous for its cuisine as its dark ties to the Italian underworld. But food and the Mafia hardly begin to describe this incredible city, which is Italy's fifth-largest. We had three months to explore the culture, history, people, churches and museums of Palermo, and could have used a few more. Start reading from
the beginning
of our journey, or skip to
the end
. Visit the
comprehensive index
of everything we wrote about, or just check out a few posts, selected at random, below:
mike_frontpage(); ?>
Showing #21 - 30 of 104 Articles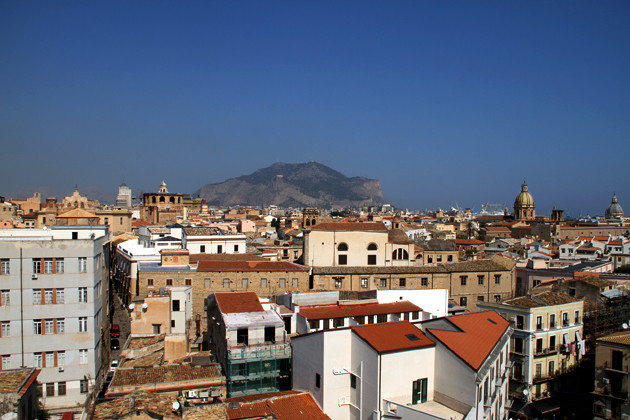 One of the best birds-eye views of Palermo can be had from the top of the Torre di San Nicolò, near the Ballarò market in the Albergheria. The late-Gothic tower was constructed in the 13th century for defensive purposes, and now belongs to the adjoining San Nicolò church. For a structure built so long ago, the tower is in remarkable condition, and you'd have a hard time finding a better panorama of the medieval city.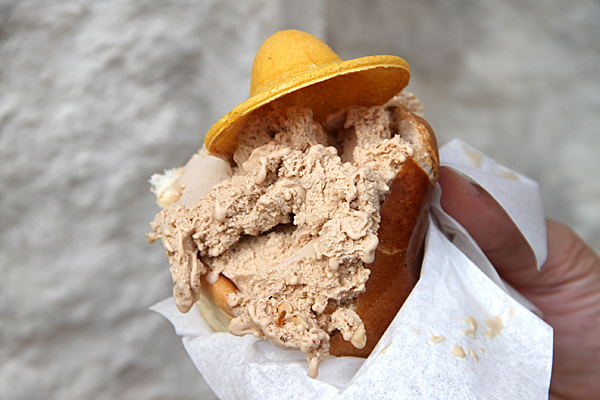 The first time I saw someone walking down the street in Palermo, eating ice cream in a bun, I thought, "What a weirdo". The second time I saw it, I thought, "Is this some sort of crazy Sicilian specialty?" The third time I saw it, I thought, "That looks delicious". And the fourth time I saw someone eating ice cream in a bun, it was because I spotted my own blissful reflection in a storefront window.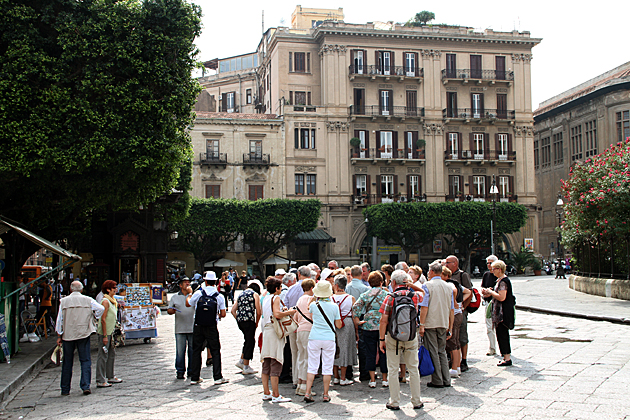 Almost every day, it seems like another massive cruise ship docks at Palermo's port, and thousands of tourists pour out like molten lava. With only a few hours to see everything Palermo has to offer, they hop on the big double-decker sightseeing buses which cruise around the historic center. Maybe they'll have a chance to visit the Norman Palace or the Catacombs but, after a couple hours, it's right back onto the ship. I wonder how many of them are captivated by the city's charm, and promise themselves to return.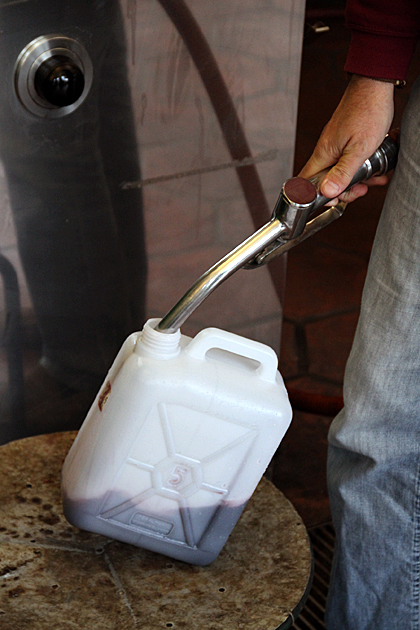 This might be common throughout Italy, but Palermo is the first time we've encountered a store that sells wine by the liter, as though it were gas. Pumped from a tank, through a nozzle into a large plastic container, with a ticker racking up the price, really as though it were gas. It's even about the same price.
Apparently, cilantro isn't an herb much used in Sicilian cooking. The stand in the Vucciria Market had piles of basil, sage and oregano, but the seller had never heard of cilantro. Still, he was determined to help me out, and asked if I would recognize it by sight. "I think so, probably". Producing herb after herb from the back of his store, he held out branches for me to sniff and inspect.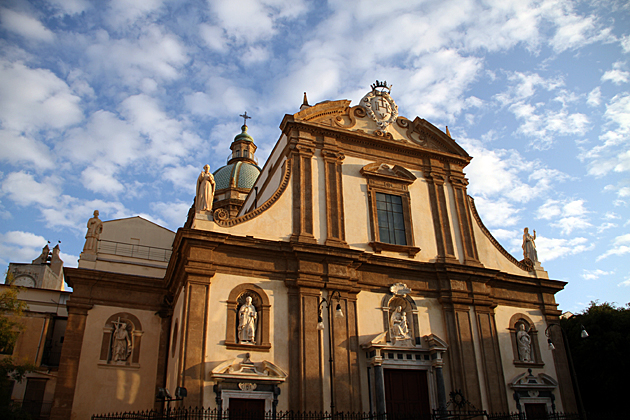 Although it's tucked into the maze-like alleys of the Albergheria, the Casa Professa (or the Chiesa del Gesù, as it's more officially known) isn't difficult to find. Just head towards that beautiful green and white tiled dome, visible over most of the neighborhood's rooftops. One of southern Italy's most spectacular Baroque churches awaits.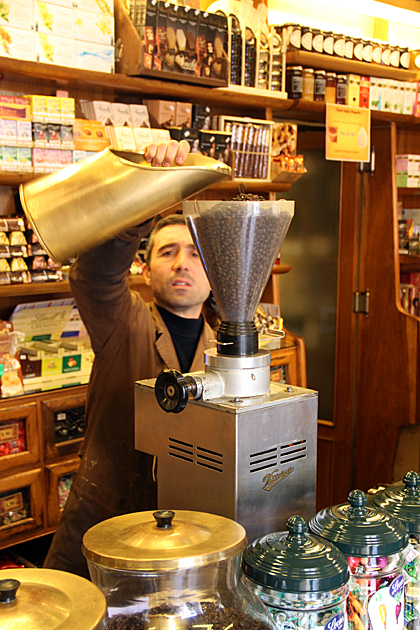 As we were leaving the Santa Caterina on Plaza Bellini, eyes still bruised by the church's baroque extravagance, another of our senses came under attack. Like Micky Mouse following the scent of cake, we became captive to a strong whiff of coffee. Powerless to resist, we were carried to the doors of Torrefazione Ideal.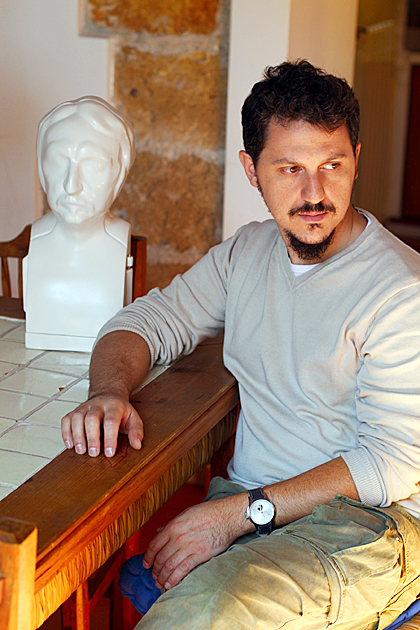 From the regal statues of the Quattro Canti to the delicate stucco work inside the Oratorio di San Lorenzo, it's apparent that sculpture has always played an important role in Palermo's art scene. We had the chance to meet one of the city's modern sculpture artists, Daniele Franzella, who showed us into his apartment and workshop.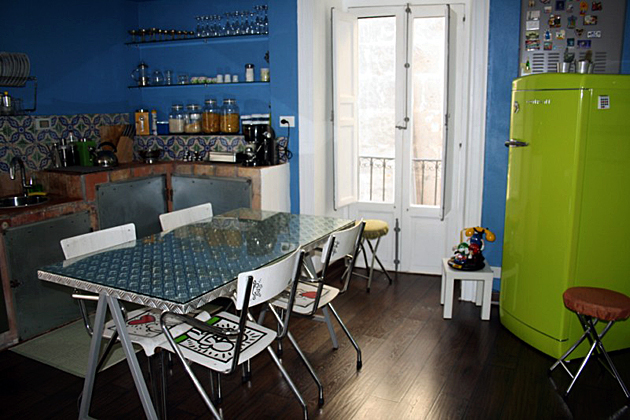 The hardest part of moving to a new city every three months is finding a suitable apartment. But we really lucked out when planning our stay in Sicily, and discovered Casa Zatlò over the excellent website VisitPalermo.it, with almost no effort. We couldn't be happier with our new temporary home, and can totally recommend it to anyone who wants to stay in something a little homier than a hotel.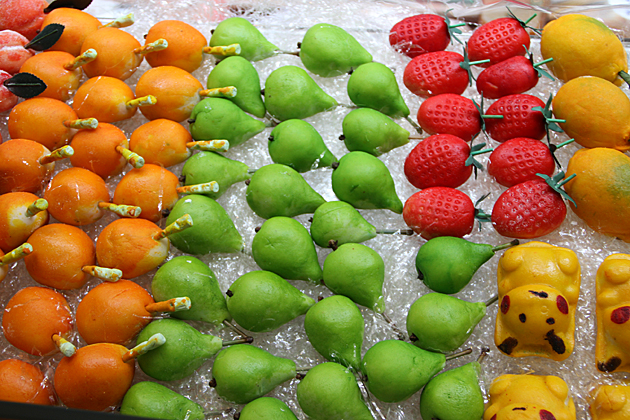 The beginning of November has traditionally been a time for the dead in Italy. A mix of somber religious reflection, modern costume parties and bittersweet remembrances of deceased family members, the Italian celebrations have roots which stretch back centuries, but which have also been affected by outside influence, particularly American.